Since a longer break (was broke!!) I just went to see what Amy stuff they have on eBay. Geez, seems like everybody is milking her for what they can. Badges, pictures, mugs, fake karaoke CD's, corny biography books etc. Nevertheless, I found three bootleg vinyls that look really good. I think I'd purchase them if I had a record player.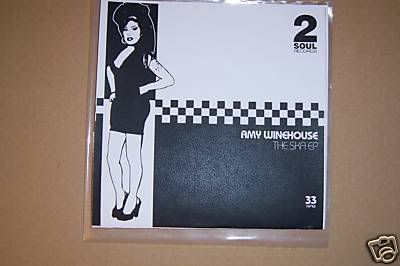 Side A - Monkey Man - Hey Little Rich Girl.
Side B - You're Wondering Now - Cupid.
The Single Is On The 2 Soul Record Label And Limited On Grey To 200 Copies Worldwide.
I bet Amy's record label doesn't know anything about this release.
A1. YOU KNOW I'M NO GOOD (LIVE)
A2. WAKE UP ALONE (LIVE)
A3. VALERIE (LIVE)
A4. TEARS DRY ON THEIR OWN (LIVE)
B1. REHAB (LIVE)
B2. ME & MRS JONES (LIVE)
B3. LOVE IS A LOSING GAME (LIVE FEAT. MOS DEF)
B4. BACK TO BLACK (LIVE)
C1. REHAB (FEAT. JAY-Z)
C2. REHAB (HOT CHIP REMIX)
D1. TEARS DRY ON THEIR OWN (NYPC'S FUCKED MIX)
D2. YOU KNOW I'M NO GOOD (FEAT. GHOSTFACE KILLAH)
D3. YOU KNOW I'M NO GOOD (SKEEWIFF MIX)
Fake as it gets. I think I must have seen this before together with a better quality picture. The sleeves looked pretty proffesionally made.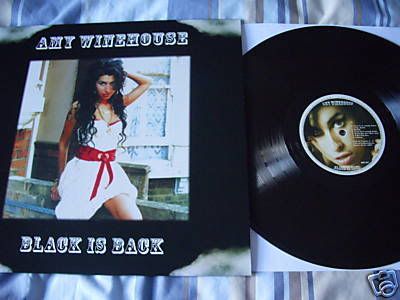 Amy Winehouse: Black Is Back
Special Collectors Edition
Demos, Live & Rare
When held to the light the vinyl is a light brown colour.
(13-track European Import LP, complete with reproduction Music labels and picture sleeve.)
SIDE 1
Valerie
Cupid
Monkey Man
Some Unholy War
Hey Little Rich Girl feat. Zalon & Ade
You`re Wondering Now
To Know Him Is To Love Him
SIDE 2
Love Is A Losing Game original demo.
Rehab
Love Is A Losing Game
Tears Dry On There Own
Take The Box
Valerie
Side 2 tracks 2 - 6 Live At Kalkscheune,Berlin 24.01.2007
Even though they say it's a "European Import LP" I would bet my both hands that it's a bootleg. Ain't nothing official about that release.
Now, I was wondering if it makes sense for me to purchase a record player just to listen to some vinyls???? LOL What do you think?