This year would have been the 50th anniversary of Glastonbury. Since the festival itself is canceled, the BBC is broadcasting The Glastonbury Experience across BBC television, BBC iPlayer, BBC radio and BBC Sounds from Thursday the 25th to Monday the 29th of June.

They are going to have alot of broadcasts happening. The TV part (schedule) has pretty clear descriptions of what's airing in each program. But the radio part isn't that clear (as of yet). I put some links at the bottom of this with schedules and the BBC Glasto media center, etc.

With the hope that we'll be able to see or hear a few 'RARE' things that Amy did at Glasto 2007, I put together a little 'Amy Shopping List' of things to keep an eye out for ..

=======================================================================

Backstage Interview with BBC's Edith Bowman ...

Some time ago, Edith Bowman mentioned on one of her radio shows that she had interviewed Amy backstage at Glastonbury, the following photo may have been when this interview took place ...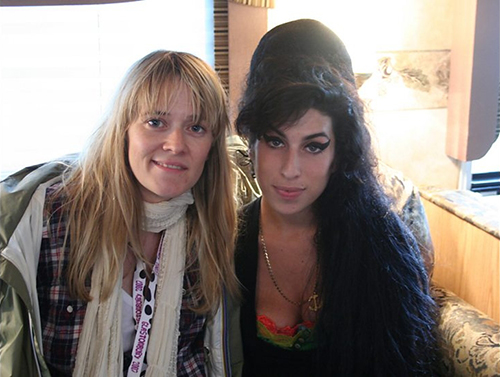 A photo of Amy and Jo Whiley was also taken at the same time, so an interview with Jo may have taken place too.

Edith Bowman is hosting a show on ...
Thursday 25 June - BBC Four - 22:00

Edith Bowman will introduce a broadcast of Julien Temple's acclaimed film Glastonbury, which celebrates and documents the history of this famous festival. Concert footage, interviews, archive and home video collected from attendees themselves combine in this film to capture the essence of Glastonbury. Musicians featured in the film include The Velvet Underground, Radiohead, Björk, Primal Scream, Pulp and, for the time on this new cut, Dizzee Rascal, Patti Smith and Amy Winehouse amongst many others.
https://www.bbc.co.u...rammes/b0079290

=======================================================================

Backstage Acoustic ...

In an early Torrent release, that had both the Pyramid and JazzWorld Stage appearances (and also some Isle of Whight highlights), also had it's top menu audio theme with an acoustic version of 'You Know I'm No Good', where they said it was a backstage acoustic from the Glastonbury radio broadcast. In the following link, The Mirror does mention that Amy did do an acoustic set while she was there, but I never was able to find any other reference to it.
https://www.mirror.c...y-teepee-485405

The BBC is airing 3 Backstage Acoustic shows on the following days, so hopefully well see Amy in one of them ...

Friday, June 26 - BBC Four - 23:00
Glastonbury Backstage Acoustics - 30 minutes
https://www.bbc.co.u...rammes/m000kbpd

Saturday, June 27 - BBC Four - 19:00
Glastonbury Backstage Acoustics - 30 minutes
https://www.bbc.co.u...rammes/m000kjjy

Sunday, June 28 - BBC Four - 21:00
Glastonbury Backstage Acoustics - 30 minutes
https://www.bbc.co.u...rammes/m000kjjt

The above are all TV, I would definitely keep an eye on some of the radio shows, just incase that acoustic was audio only and ends up being aired by Jo Whiley on her radio show, or something like that (BBC Radio 1, 2, or 6).

=======================================================================

Pyramid Stage video of 'Tears Dry On Their Own' ...

Track 3, 'Tears Dry On Their Own' was included in the audio broadcast of Amy's appearance on the Pyramid Stage, but was omitted from the full video that BBC aired (most likely to fit it in their hour time slot).

From the sound of it, they might not be showing the whole performance of either stage, but may be showing clips from both. So, hopefully we'll get to see the missing Pyramid Stage song. And also her JazzWorld set was somewhat shorter in time than the other, so there might be a possibility that there was a few songs omitted from that too.

This is scheduled to be broadcast on ...
Amy Winehouse at Glastonbury 2007
Sunday, June 28 - BBC Four - 21:30-22:30
https://www.bbc.co.u...rammes/m000kjjw

=======================================================================

Some links ...

BBC Media Centre for Glastonbury
https://www.bbc.co.u...020/glastonbury

BBC Schedules (Click on the line on the right for BBC Four, Radio 1, Radio 6, or whatever)
https://www.bbc.co.uk/schedules

BBC Glastonbury Episodes (Available & Upcoming)
https://www.bbc.co.u...dcasts/upcoming

SommersetLive TV Schedule
https://www.somerset...bc-time-4240204


I sure hope they air some new stuff & have fun!